When my brother told me he had joined the Peace Corps and was shipping off to Georgia, I geographically knew where he was going, but nothing about the culture itself. I always pictured Georgia as Petra, Jordan— some exotic country in that region of the world with ruins in deserts and turbaned horsemen tearing through the barren landscape. As romantic a picture that is, Georgia is actually better than this imagined world of mine.
At the end of June, I cycled across the border of Turkey into Georgia, and headed down a windy road the last few miles into Batumi. My first glimpse of this amazing country was cobblestone streets not unlike Europe, with little markets and shops at the edges, and cars trying to navigate the throngs of pedestrians crossing back and forth. Modern buildings rose on the outskirts and met the black sea, edged by grey stone pebbles instead of sand. An enormous promenade met lush parks, and bike lanes wound throughout.
For the next two weeks, I was escorted around the country by my brother, his girlfriend, and other Peace Corp volunteers and Georgians. I hiked through lush fruit trees in Guria with my brother and his host brother Zura, swam in a river, rode a night train into Tbilis with my bike hanging precariously overhead in the compartment, and ate more Kingkhali than was good for me (if there is such a thing). I met my brother's amazing host family (staying at their home was the best part of my trip), their friends, my brother's colleagues at the school where he teaches, and was welcomed warmly by everyone. Georgians are known for the hospitality, and after a whirlwind two weeks, I want to go back again.
For all of you who haven't had the pleasure, check out this curated list of these absolute must sees in Georgia.
1. Vardzia (ვარძია)
Located in Southern Georgia, this cave monestary dates back to the 12th century. The site has been submitted for status as a UNESCO heritage site, and stretches almost 1/3 of a mile with 19 tiers. Collectively there are 409 rooms in these caves, 25 wine cellars, and 13 churches. Vardzia is only 60 km outside of Borjomi, and it's possible to do a day trip (although a few days would be better).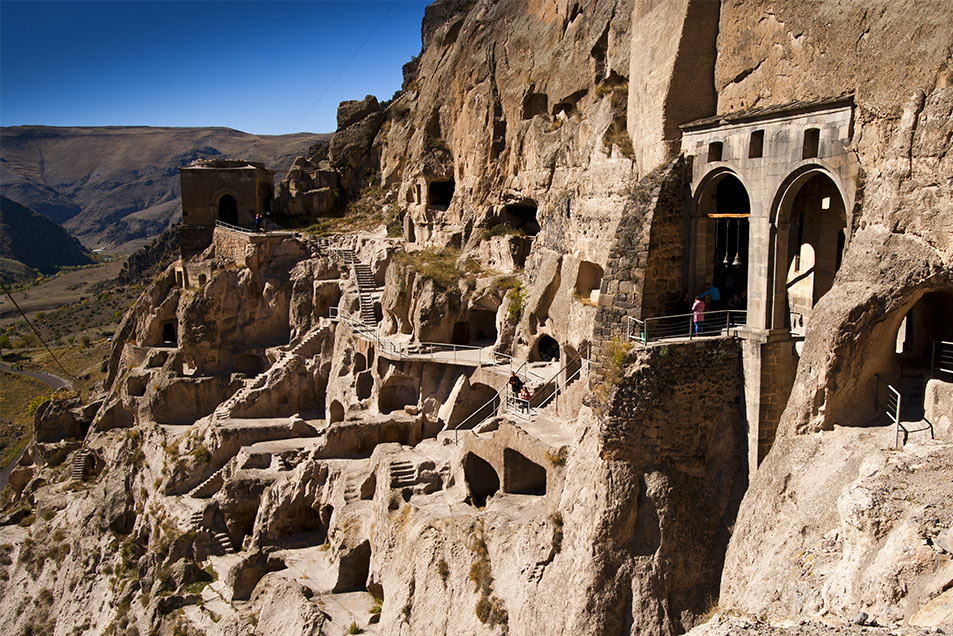 2. Kazbegi (ყაზბეგი)
Officially known as Stepantsminda, though more commonly known as Kazbegi, this small village is located in northern Georgia at Georgia's third largest mountain at 5,740 ft. Kazbegi is only 15 km from Russia's border, stands surrounded by snowcapped mountains, and is an easy day trip from Tbilisi.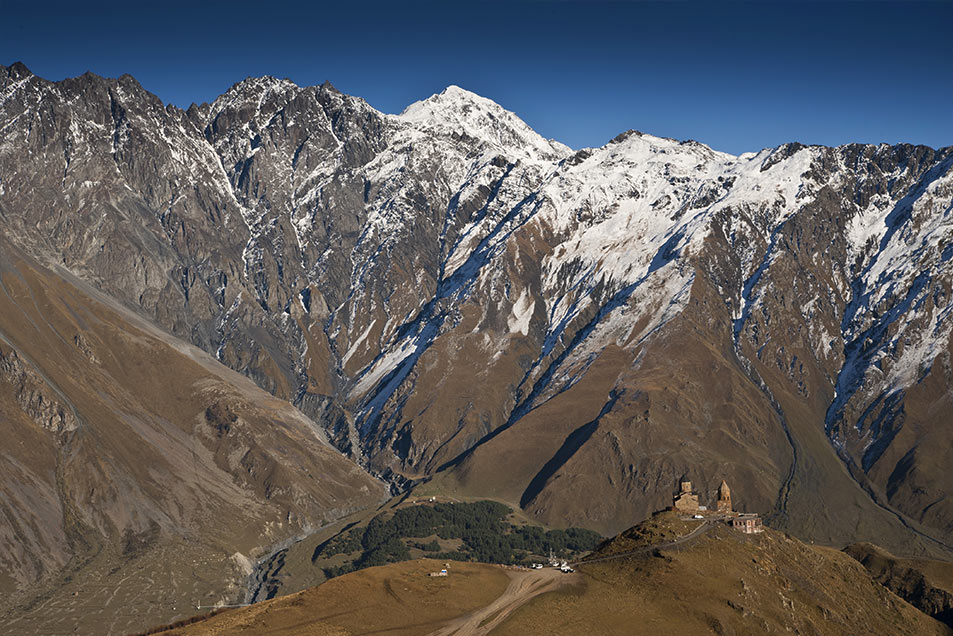 3. Upper Svaneti (ზემო სვანეთი)
Svaneti is a region of Georgia, and Upper Svaneti is an area with one of the highest and most isolated villages in the entire country. It's also a UNESCO World Heritage Centre, featuring towers built in the 9th-12th centuries, set before a backdrop of the beautiful Greater Caucasus mountains. Upper Svaneti has been called one of the most beautiful places on earth, and can be reached by (the more toursity) Mestia.
4. Ushguli (Shkara) (უშგული, შხარა მთა)
Ushguli is one of the villages in Upper Svaneti, which features the highest mountain in Georgia as its background; the Shkhara, which sits at 17,037 ft. of elevation. There are tons of glaciers to explore and extremely high mountain passes to climb, all with none of the restrictions you would find in most developed countries.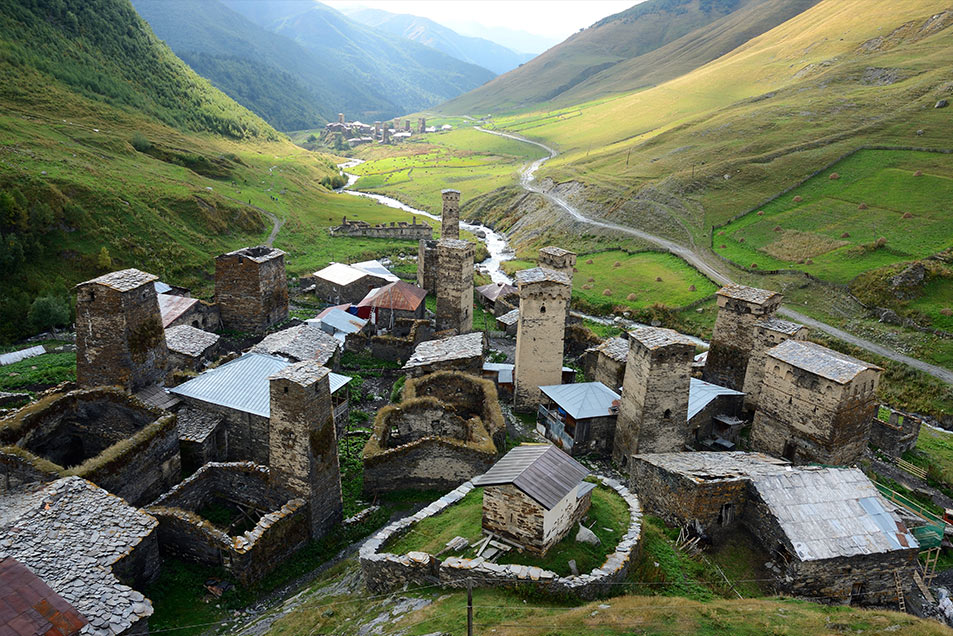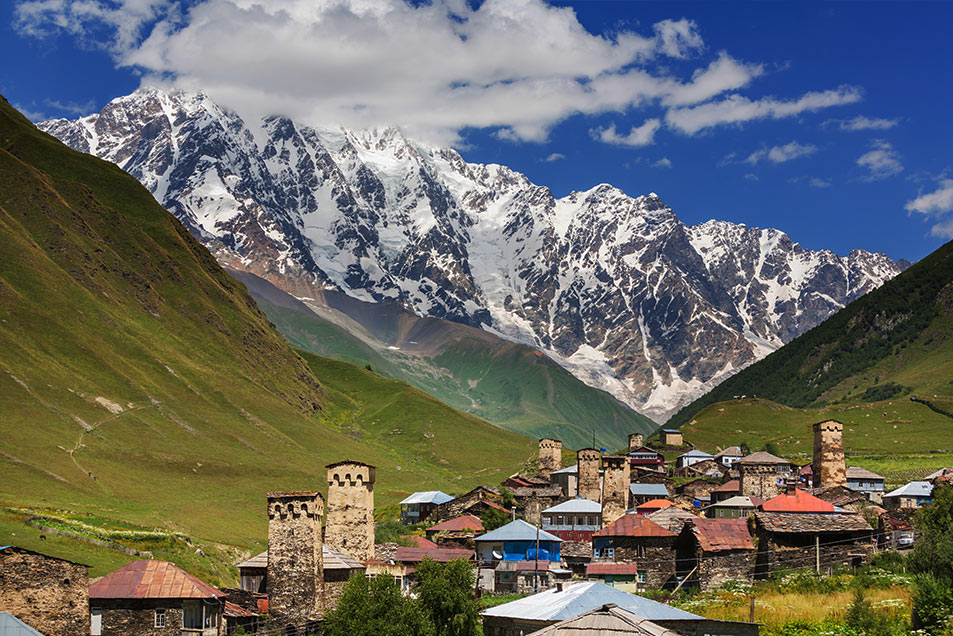 5. Canyons of Samegrelo (Martvili Canyon) (სამეგრელის კანიონები, მარტვილი კანიონი)
Martvili Canyon is located in the Samegrelo region in Western Georgia, roughly 174 miles (280 kilometers) outside of Tbilisi. There are boat tours through the canyon (for 5 lari per person), waterfalls, even a camping area. It's packed with tourists in the summer, but well worth the trip. There's even a monestary in the area, in Balda.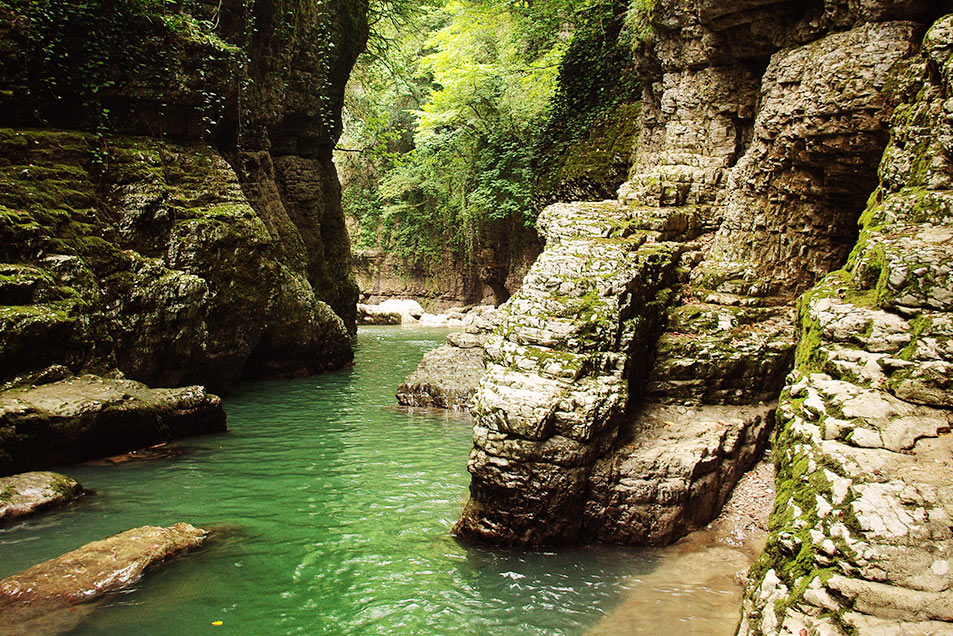 6. Old Town Tbilisi (ძველი თბილისი)
Tbilisi is one of my favorite cities, hands down. Its twisting cobblestone streets lead down tiny alleyways filled with amazing restaurants with flowerboxes spilling out onto the streets. The streets will sometimes take a sharp turn and become a modern bridge illuminated by colored lights, crossing the Mt'k'vari (Kura) River which runs through the city. Tbilisi is a modern city, and contains the majority of the population in the country. Get into old town, and see the twisted and ancient streets old town Tbilisi is famous for.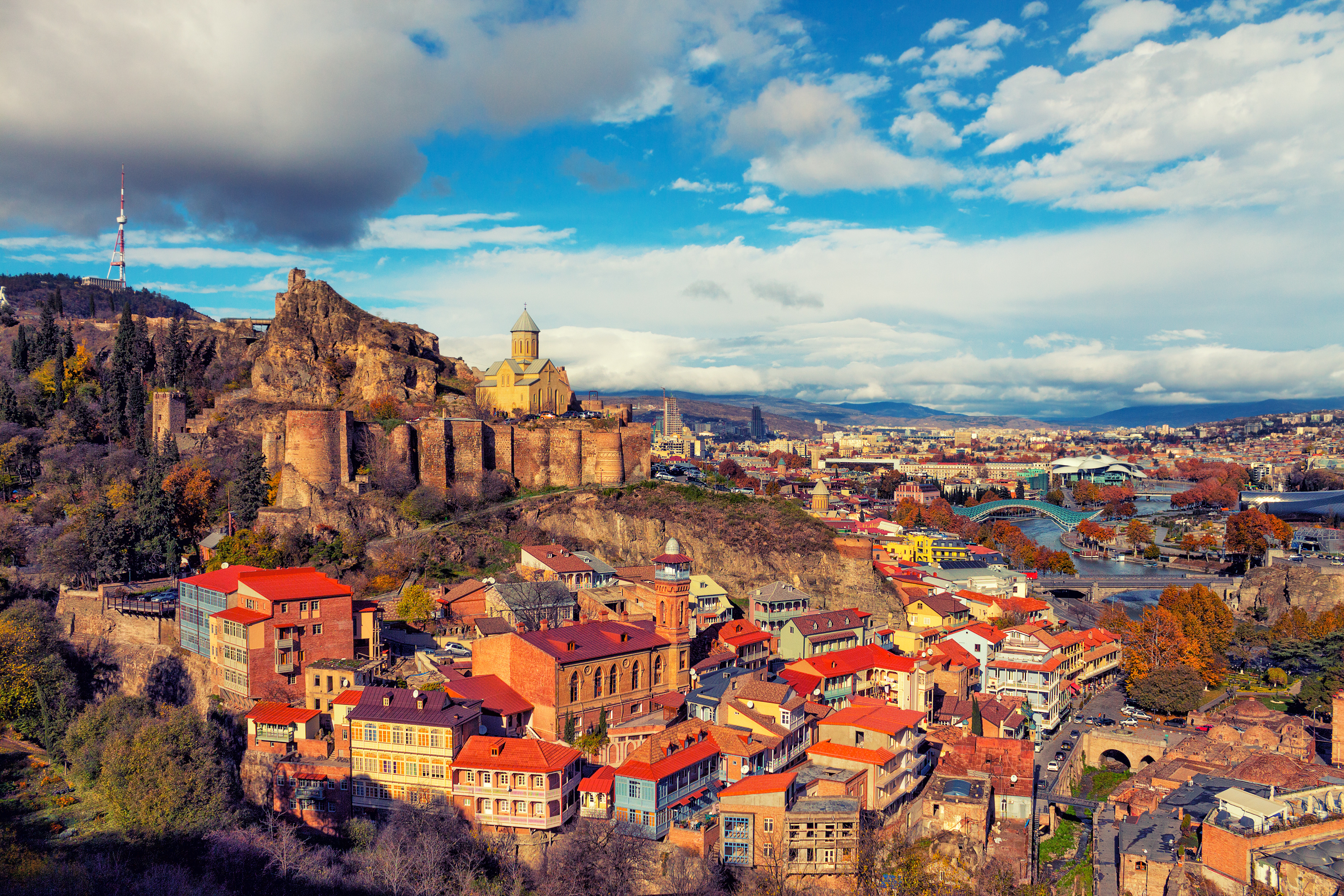 7. Kakheti (კახეთი)
Kakheti is a region in Georgia formed in the 1990's, which is ironic since it's considered to be the birthplace of winemaking— and not just in Georgia, the birthplace of winemaking, period. This region is famous for their wine, in particular Pheasant's Tears Winery, which is one of the most famous wineries in the country. Not only is the area the top producer of wine for Georgia, the main city, Telavi, is surrounded by castles and churches. The area is also famous for its meat, so don't miss the Mtsvadi (Georgian Skewered Pork).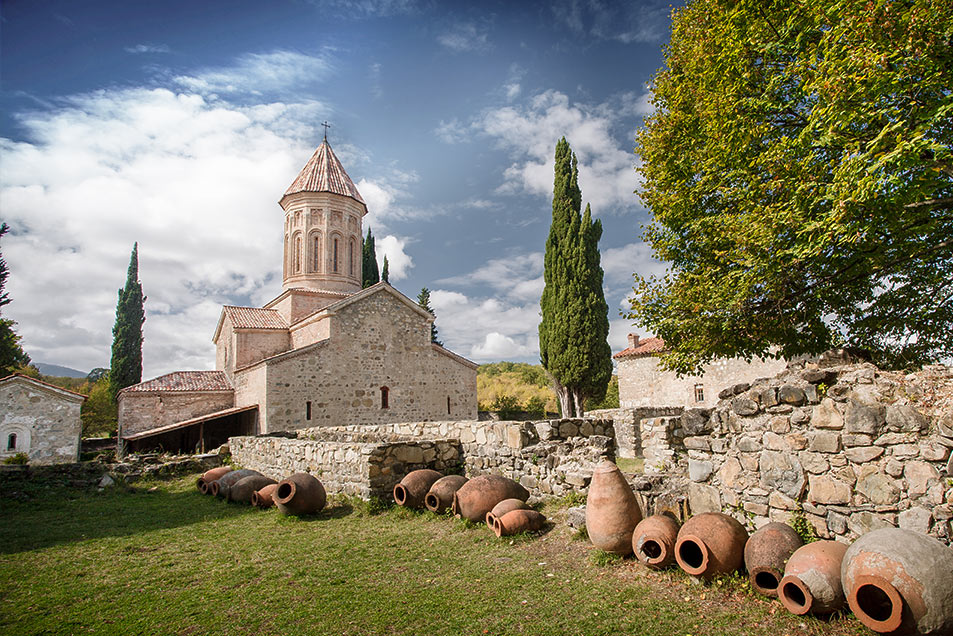 8.Tusheti (თუშეთი)
Tusheti is a popular trekking area but, due to the single road accessing the area through a high pass, is only reachable from June to October. Tusheti is known for its animist religion (the belief that individual spirits inhabit natural objects) and there are stone shrines scattered across the area called khatebi. These shrines are decorated with the horn of goats and sheeps, and women are not allowed to approach these religious relics.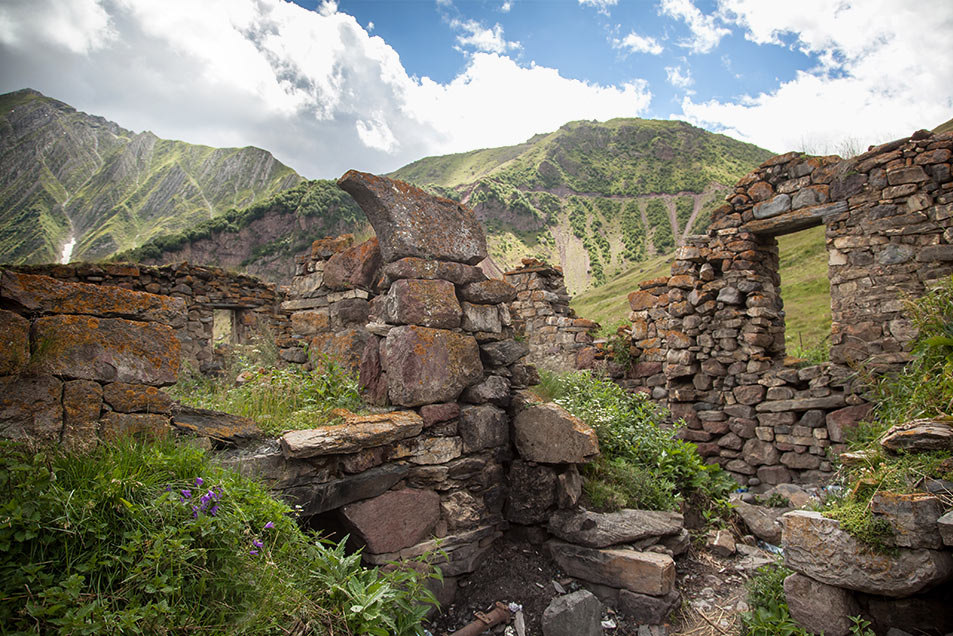 9. Khevsureti (ხევსურეთი)
Khevsureti is the region where Khinkali originated. Enough said. Khinkali are Georgian dumplings, stuffed with meat or mushrooms, and are eaten with crushed black pepper in a certain way. It's considered an embarassment to let a single drop of the juice within the dumpling fall on the plate (which I did plenty of the first few times I ate Khinkali). Khevsureti also borders Russia, and is home to some of the most sparsley populated villages, beautiful ruins, and a fall festival featuring Georgian wrestling and horse races.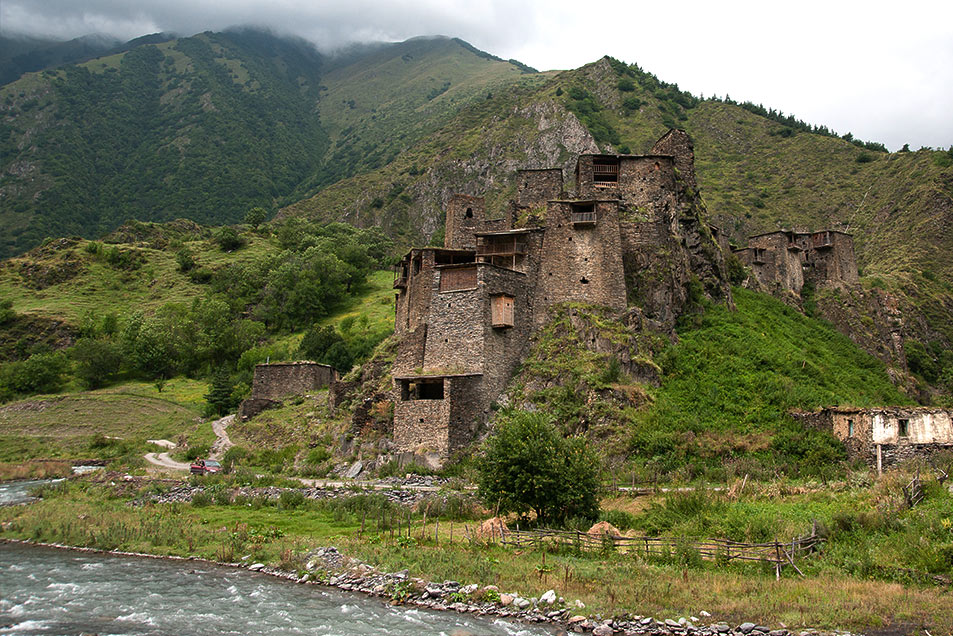 10. Guria:(გურია) The smallest and poorest region of Georgia is also home to the most vibrant and interesting people. Visiting some of the villages surrounding the district capital of Ozurgeti gives you an insight into what old village life is really like. Unfortunately, it's a difficult area to visit without prior knowledge of the area, but if you're lucky enough to know someone, be sure to eat all the fruit available as Guria is like Eden in the summertime. Be sure to visit the markets in Ozurgeti, and visit Pirosmani for excellent Khinkali.
Thanks to Chaz Bradford for his help with this post.