Wheelchair Bound. 
On July 14, 2017, while on a solo motorcycle trip from Washington, DC to Patagonia, I was hit by a truck that crossed the highway in front of me, in Honduras. I had only a few months to go before finishing the trip at Fitz Roy, Argentina, where I'd then fly back to the states for a friend's wedding. I'd ridden almost 10,000 miles, crossing the border at Laredo, Texas into Mexico, riding through Belize, Guatemala, El Salvador, then Honduras. I was thrown across the highway, my motorcycle sliding across the asphalt behind me— damaging the bike, my computer, all my camera equipment, and, me. I lay bleeding on the side of the road for twenty minutes before asking several bystanders to put me in the back of a pickup truck and drive to the nearest hospital.
We have to build the life we want, even if it means building it from the remains of what we're left with, after what's been done to us.
I was in a wheelchair for almost three months. The fourth month I flew to Colombia to finish recovering, being pushed in a wheelchair from gate to gate at the airport. The fifth month I hobbled on a cane to the gym down the street every morning for physical therapy, and, when I was able, hobbled back. I started a business from the apartment I had in Medellin that I was barely able to leave. The sixth month I ran for the first time after the accident— a wobbly, painful affair where I struggled to make the long 1/2 mile, but shrieked with joy when I finished. Eleven months after the accident I sat on my motorcycle again for the first time, and rode out of Honduras and headed south.
There's only one direction, and that's forward.
All we can do is follow time through the days, and accept what we're presented with grace and with openness.
I'm currently headed south on my motorbike, continuing my work as an adventurer and explorer, as a photographer and writer, as a human and woman. Adventure waits for no one, and the road unfurls in front of me into the distance, into the unknown.
About Dani Bradford.
Lone Rucksack documents the escapades of Dani Bradford, a dirtbag solo adventurer and digital storyteller who has traveled extensively across the globe.
Dani is an '80s kid, who grew up on goblins in Labyrinth, Star Wars, and Indiana Jones. Her heroes were Han Solo and Frida Kahlo— fictional and real people who didn't take any crap from anyone. She was an avid painter and reader, and spent summers taking apart lawn mowers and working at small automotive shops to learn about engines. When she graduated high school she couldn't decide whether she wanted to be an electrician or artist, so she spent two years at community college, paying her way through school by working several part time jobs— one of which was at a Racecar and Metal Fabrication facility. 
She moved to Baltimore in 2006 to attend one of the top college programs in the US for graphic design— The Maryland Institute College of Art (MICA). She loved business, and wanted to apply her artistic sensibilities to commercial principles, so she switched her major from painting to Graphic Design after one semester and never looked back. Dani graduated from MICA in 2008 with a BA in Graphic Design. While in college, she helped found a Racecar Fabrication business, and upon graduating, started freelancing for Inside Lacrosse magazine and Johns Hopkins University. She bought property near the UA campus in Baltimore and starting designing and building a house. 
Before the house was finished, she started working as a videographer in Washington, DC for an international NGO that worked on policy in developing countries dealing with poverty and malnutrition. She started traveling around Africa and Asia for work, helping set up conferences at in-country offices and surrounding areas, running the photography and video side of the conference, as well as shooting video and photos in the field. She traveled to Senegal where Dakar became almost a second home, interviewed the former President of Ghana (John Kufuor) in Accra, Ghana, and made presentations about incorporating video into researcher's work in Abuja, Nigeria. She ran photo and video teams in Lebanon, India, and Indonesia. In 2012, burned out from construction on the weekends of her house in Baltimore, and commuting back and forth to Washington, DC and traveling, she decided she wanted to set off on her own. She left her job, and spent the next year+ traveling around Africa. She backpacked in Ethiopia, traveled to the farthest reaches of Senegal to shoot markets, and traveled overland from South Africa all the way to Malawi, camping with elephants in Botswana, jumping into Victoria Falls in Zambia, and shooting markets in Lilongwe, Malawi. She ended up living in Cape Town for a short period of time in the Gardens area, before returning to the US in May 2013.
Back on the East Coast in Baltimore, she started avidly rock climbing, and working for Under Armour on the eCommerce team. She began art directing photo shoots, and worked with an amazing team of stylists and photographers and subsequently developed a love of the eCommerce business. She was part of the team that launched a newly re-designed responsive site at UA in 2013. At the end of 2014, Dani decided Under Armour had run its course, and started freelancing with the portfolio and high level projects and clients she had worked with over the previous 6 years. She worked on a 3 month contract project with USA Today before embarking on a 6 month bicycle expedition across Europe from Lisbon, Portugal to Batumi, Republic of Georgia. 
When she returned in the fall of 2015, she started working for National Geographic, art directing photo shoots and working with photographers and stylists to tell a better story through the National Geographic brand. She worked on a new launch of the National Geographic responsive store site, and was responsible for the creative overhaul and UX design of the new site and launch. She created a new brand guide for the store, and pitched ideas across teams to utilize National Geographic's massive resources. It was here she discovered the name for what she had been doing the last few years on her own— digital storyteller— and fully realized with her background in the eCommerce industry and in photography/video what she wanted to be doing full time with her own brand, Lone Rucksack. In 2016, she left National Geographic to live in Ecuador, improve her Spanish (and surfing skills) to continue her work as a photographer and work on a side project in the Peruvian jungle, as well as work on the Lone Rucksack brand, telling great stories from the road. 
In May 2017 she left for a solo, unassisted motorcycle tour from Washington, DC to Patagonia, Argentina. Halfway through the trip, she was hit by a truck illegally crossing the highway in Honduras. She was thrown across the highway, legs torn open and bleeding, and asked bystanders to pick her up and put her in the back of a pickup truck to the nearest hospital. She was in a wheelchair for almost 3 months, and spent the subsequent 3 months recovering in Medellin, Colombia, where she founded and launched her design studio, Hazard House. Almost one year after the accident, she flew back to Honduras to repair her motorcycle, and continue her journey. Dani is currently in South America working from the road, and recently celebrated the two year anniversary of Hazard House.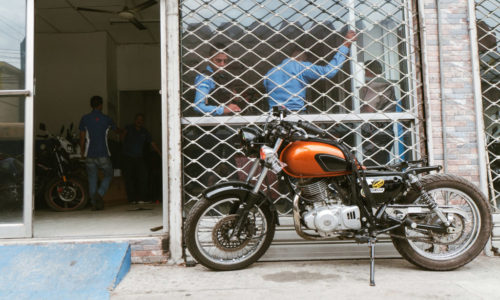 Honduras The sun is brilliant rising, warm oranges reaching from behind the mountains, touching the leaves on the trees and slowly making its way across the road. The pale shapes of the morning take form and become the highway, and I am no longer a shadowy thought but real, and present, and riding again, illuminated […]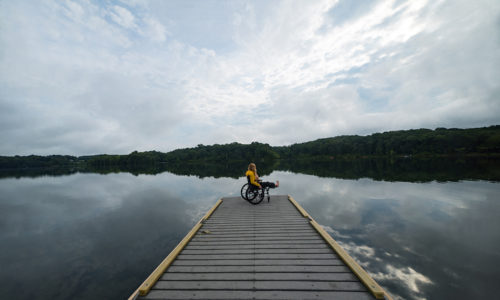 On the Road from La Ceiba to Tegucigalpa, Honduras // 10 AMThe rain that had filled the potholes on the red dirt road had gone, leaving only empty spaces. My motorcycle bumped up and down as I leaned right and then left, slowing down then speeding up, navigating the twisting road that followed the river […]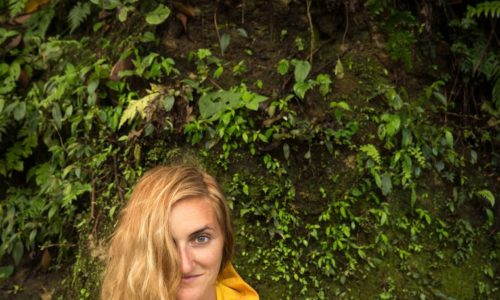 Rio Dulce I rode across the bridge into El Salvador, and when the bridge ended there was an empty bit of road with buildings to the left down a hill, a little stand to my right, military men milling and people milling around. There were no clear signs that I could see, and I sat […]