Nuevo Laredo, Mexico
I was waiting at the Banjercito office in the Migración building, having just crossed International Bridge II from Laredo, Texas into Mexico. I held my motorcycle helmet in one hand, and my tank bag in the other, simultaneously clutching a large ziplock of all my documents needed for my temporary vehicle permit to ride through Mexico.
"You should throw your motorcycle in the back of my truck," the man in front of me said.
"Excuse me?"
His wife, standing in front of him, tried to say something to him and he waved her off impatiently. "It's not safe for you in this state. You can put your motorcycle in the back of my truck. Other states, sure, but this one— you think the police will help you, maybe 50%, but the rest, corruption. Maybe one saw you come in. Maybe he will follow you. It's fine for me, in my truck, but you, on a bike…" He trailed off, clearly contemplating the horrors awaiting a female traveler alone on a motorcycle.
I nodded politely. I was used to people telling me it wasn't safe. In fact, almost every place I've ever been people have asked if I was afraid— afraid of being alone, afraid of certain places or, what they really were asking and projecting, afraid of the unknown. When you're a solo female traveler, you get used to these kind of comments and intrusive questions. I've found that passivity is the best way to handle them.
These fears are driven by skewed media outlets, gossip, and urban legends. They're driven by blatant sexism (protect the women!) and culture— where instead of women being encouraged to explore the world, they're told they need to be protected from it. I've been told by people in bordering countries that I'll find nothing but desert the next country over, or, one of my personal favorites, that I'll be killed or kidnapped. "I hope you make it," they mutter, convinced of my demise for the sole reason of choosing to travel without a companion. I nod politely, and carry on.
* * *
5 days before, Sam Houston Jones State Park
I rolled the biked around a sharp curve, the smell of pine and warm sun breezing in through the vents in my helmet. Up ahead, a sign came into view around the curve— Sam Houston Jones State Park. It was a relief to be out of the bustle of New Orleans, and into the quiet of the forest. I pulled under an awning at the entrance to the State Park, a small bell sounding as I came to a stop. I climbed off the bike, and walked into the State Park office.
Two young girls were sorting money at the front desk. "You traveling alone?" one asked, looking at my riding jacket and helmet, and out the window to the motorcycle parked outside. "I'd be too afraid to camp alone," she added.
"Nah it's great you totally should, it's a lot of fun. What's going to get ya?"
The other girl handed me a written pass to hang on the post at the campsite."Watch out for the raccoons ya hear, a guy was in here a little while back, asking for a refund because raccoons ate his tent. Don't feed the raccoons al'right?"
I smiled at them both, walked outside to the bike, and rode off into the park.
* * *
Monterrey, Mexico
It started pouring just as I reached the outskirts of Monterrey— a dirty, misty sort of rain that soaks the roadways and sends waves of gritty water into your boots. I could barely see through my face-shield, and the road-signs came up so quickly I didn't have time to respond, and eventually didn't bother with directions and just rode toward the city center— I was headed into Monterrey at least. My heart felt like it was in my throat as I rode down the highway, pelted by rain at 60 mph, surrounded by cars and buildings and busy road signs— then my low gas light came on. It was cold, I was completely soaked, and when I saw the Pemex gas station, I veered off the main highway onto a side street, rolling over hundreds of round miniature speed bumps checkering the roadway that made it feel like I was going to lose control of the bike, made a u-turn and and finally rolled to a stop under the blissfully dry awning of my first Mexican gas station.
The next 30 minutes were spent navigating the periphery of Monterrey, wiping water off my face-shield and clear sleeve of my tank bag while I tried to navigate streets. Lost for a time in the commercial outskirts, I rode across potholed roads filled with dirty rainwater deeper than kiddie swimming pools, crossed surprise railroad tracks— all the while inwardly cringing at every bump and turn on the slippery roadway. All of the sudden the rain stopped, and I pulled down a cobblestone street to reveal little restaurants, pink flowering vines, and a little cafe— Amatle Organic Hostel and Cafe— my home for the night. I got off the bike, and danced around like I had discovered the source of the Nile. I was in Mexico, and it was beautiful.
* * *
Sam Houston Jones State Park
I woke with a start in the pitch black. The sound of the trees rustled overhead, the wind running through the exposed screen of my tent— I had left the fly off. I heard the sound of breaking branches in front of the tent. I rummaged around for a light, inwardly groaning when I realized I had left my headlamp in one of the bags on my motorcycle.
Unzipping the tent, I walked gingerly across the ground in the dark, grabbing my headlamp out of my bag, finding it only by the dim glint of the motorcycle in the dark. I turned on the light to spy a raccoon dangling out of the tree, hands on my food bag, rummaging its hands around inside. I had hung a bear bag with p-cord from the tree in my campsite— not because of the threat of bears, but to keep the food (and raccoons) away from my motorcycle and tent.
I chuckled inwardly, crawled back into my tent, and fell asleep. It wasn't until the next morning I thought of the significance of the moment, me stumbling around in the dark, the raccoon watching me.
When I was a younger, there was a part of me that was a little afraid to travel alone. Not enough to stop me from doing it, or to actively worry about it, but there was a part that wondered, "will this be safe?" or "will tonight be the night there's a problem?". More than that though, it's the taunting finger wag all solo female travelers are confronted with, whether it's walking home from a bar at night, spending a night in the woods alone, or traveling to another country— it's the comments and condescension that say— "it's not safe for you".
I'm older and wiser now, and I've realized there's far more danger in discouraging people to try new things, from telling them the world isn't a safe place. The greatest danger I've found is the danger of ignorance, and complacency, and the spreading of myths— and passing these on to children and young adults. Asking "what will you protect yourself with?" first, instead of contributing encouragement and confidence.
I used to carry bear mace religiously in my bag, and while I still carry it with me sometimes, mostly I forget which bag it's in or even that it's there at all. It wasn't until this trip, on this night, that I realized I wasn't afraid anymore. I had endured the endless comments about my safety, the "turn backs" and "where's your knife" and "why are you doing this" and all the other fear mongering for years, until my experience far outweighed them, and I came out the other side fearless. It wasn't until I heard that raccoon eating my teabags, and stumbled around in the pitch black woods uncaring, that I realized something had changed— and it was me. On that night, my first thought before I was completely awake, was not that someone was coming out of the woods to 'get me', it was, uncaringly—"if that's an alligator I hope it eats me quickly because I'm tired".
If you tell a small human there's a monster under her bed often enough, she's going to believe it. She's going to look for monsters everywhere, be afraid to go to sleep, and will cultivate that deep-seated fear something is out to get her. My greatest hope is that one day, overcoming the fear of monsters won't exist, because she'll grow up without constantly being told the world isn't safe for her. This life isn't about what's out there waiting for us, it's about what we bring to it. Tell her instead about building a raft and sailing it down a big river, tell her about walking through the woods in the dark and all the animals she can find there. Tell her that one day, she'll find herself on a motorcycle trip south, on a great adventure, and in one place she'll stop to find alligators and tent-eating raccoons, and if she's lucky, she'll even find part of herself she didn't know was there until she left.
* * *
I spent the rest of the week in Texas, spending one glorious night in Houston, where I met up with my friend Mariana, who had Couchsurfed with me 3 years earlier and we had kept in touch since. I met Mariana's Mom, her sister, her roommate Casey, and she showed me around the city and we talked about our love of travel. We sat in a park under an umbrella, the evening wind tossing our box of tabbouleh and hummus around as we caught up, in the way solo travelers often do, in harmony with the same good vibes and world views— with perfect understanding of the challenges and rewards, the work and the love for a life on the road.
I spent one tired night in downtown Austin, and I loved it. I ate the most spectacular vegan junk food at Arlos Food Truck (fried tater tots drenched with vegan cheese) and wandered around the area. I would have stayed another night, but the hostel price ($48 a night) set a new record of the most expensive hostel I've ever stayed in the world, and made me get creative and find a quiet spot outside the city.
I stumbled upon the Community Inn on AirBNB, where I found row after row of tiny houses perched upon acres of land in Austin. Community Inn is run by Mobile Loaves, and organization dedicated to getting the homeless of the street, and providing them with a community and meaningful work. My stay happened to be on Friday night, which is movie night, and just outside my teepee I had rented for the evening was a large outdoor movie theater, the projector run inside a small airstream overlooking grassy tiers. Not only that, a larger airstream on the road above sold snacks— beautiful little boxes of the most exquisitely salty popcorn I've had the pleasure of eating, and little s'more packets tied with a twine bow, to be roasted at the campfire pit behind the outdoor movie theater.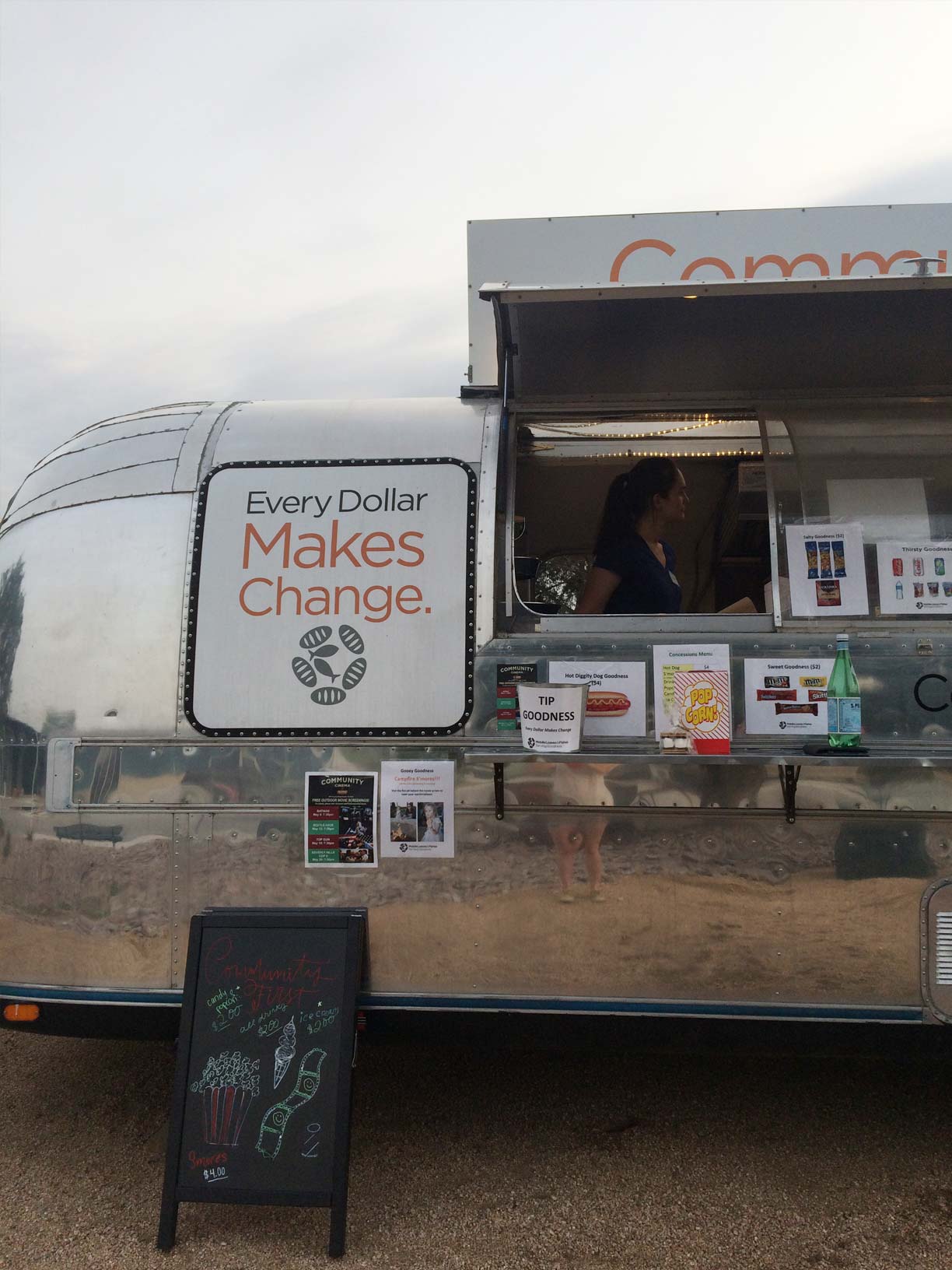 The next morning I rolled out early, trying to get ahead of the rainstorms in the area. I spent the night in Laredo, and before I knew it was crossing over into Mexico— one country down, 17 more to experience, and an endless amount of people to meet and know, experiences to have, things to be afraid of but try anyway.
It's okay to be afraid. Being afraid is one of the most positive emotions we can have— it brings us wisdom. It brings us new experiences and to new places and ways of doing things. With our hearts in our throats, we pave new ways for ourselves. The more we encourage and support those around us to be brave, to be fearless, instead of projecting our own inexperience and fears onto them, the more sunshine we bring into this world. The unknown's not so bad really.
—LR