For the last 333 days, I've been hunkered down in Baltimore, USA, after falling into a full-time job by accident. I wasn't looking for anything permanent, just something temporary to make some money while I was in town last year for my sister's wedding.
"We have an opening at Under Armour for an Interactive Designer, if that's something you're interested in," the headhunter said breezily, passing me some forms to fill out. "It's longer than a few weeks, it's a four month temporary position, but if you're willing to stay it might be a great fit." I was seated at a long conference table in a spacious office with enormous floor to ceiling windows, on the 28th floor overlooking downtown Baltimore. The building itself had 8 elevators and a no-nonsense security guard stationed at an impressive looking desk overlooking the lobby.
After eight wonderful, adventurous months of sleeping in bunk beds and tents in developing countries, more often than not going without air-conditioning and commuting everywhere by foot or local bus, the office felt more like something Dani of 5 years ago would have enjoyed.

***
In 2008, I graduated college at the height of the economic crisis, when many of my classmates went on to grad school instead of the working world. My sister was getting ready to move to South Korea to teach English, and my dream was to wear a suit and heels, working as a designer at Under Armour or Kate Spade. I hadn't yet realized what a lone ranger I really was, my need to work on something personally fulfilling, or my love for constant upheaval. I was young and ambitious, and the world was full of possibilities. After a year and a half of making great money working as a freelancer for private agencies and a lacrosse magazine in Baltimore, I landed an amazing job working as a videographer for an international non-profit in DC, whose mission was research focusing on poverty and malnutrition in developing countries. When I initially got the call back from the woman who interviewed me, she said they had filled the design position, but since I had showed her my video work, would I be interested in the video position opening soon?
I was there for only a few weeks before they flew me to Dakar, Senegal for ten days, and I fell in love with Africa. I learned enough conversational French to have broken conversations with cab drivers, and stayed up all night with friends I had met there, exploring the city after work. Several months later I made my second trip, to India, where I worked on a major international conference, managing a team of local photographers and videographers, staying up all night for days editing and uploading video and directing event staff to one conference room or the other. I loved it. It was the first thing I had done in a long time that made me feel 100%, completely alive. I was sleep deprived and overwhelmed at times, but everywhere I went there were interesting people to talk to and something new to see. I loved the people, and the markets. I loved the chaos and the traffic and the clotheslines hung at the construction sites where the families of the workers resided. I loved staying out all night with locals I had met through the conference, sipping Budweiser in bars that could have been anywhere in the world, save the robust crowd of young Indian men and women. I loved the dust that coated my feet and made the tub black at the end of the night, but most of all, I loved how for the first time in my life, I felt content with who I was.
I realized at some point in India, my stateside life was meant to take another direction than the one it was going. Those two weeks in India made me question in my very soul what it was I wanted, and I realized it wasn't the life I had been living. The night I arrived back in Baltimore, I broke up with my live-in boyfriend of six years with whom I owned a house. At that moment, I shattered the life I had known for the past six years. I shattered the world I had created and worked for in my early twenties, everything I thought I had wanted. My family was crushed, my friends non-existent— I had spent the last six years working on my career, renovating a house, and being a girlfriend. It was the hardest thing I have ever done. I was 25 years old.
***
Back inside the headhunter's office in Baltimore, I thought about the Under Armour position. I wondered if staying in my hometown for four months was something I actually wanted to do. I had been in town for months already, and was ready to get out and hit the road. I had planned to spend the next year on a vintage motorcycle, traveling from Baltimore all the way down to the tip of Chile, finally becoming fluent in Spanish and fulfilling my dream of exploring South America and getting to see Antarctica, all in one go.
Under Armour is an American sports performance apparel company started in Baltimore by University of Maryland athlete Kevin Plank. Every Baltimorean and Marylander knows of, and usually sports, Under Armour apparel for local pride. It's somewhat of a local legend, a David and Goliath story of the underdog Kevin Plank, who came up with the idea of a material that wicks sweat and took on giants like Nike and Adidas who had already cornered the market on sports apparel. Under Armour became a smashing success, and in its short 18 year existence, is now a 2.3 billion dollar company, featuring athletes from world champion skier Lindsey Vonn and football player Tom Brady, to new additions like surfer Brianna Cope and ballerina Misty Copeland.
The 2008 recent graduate Dani would have leapt at the opportunity to work at such a prestigious local company, but the Dani of August 2013 wasn't so sure. I had spent the past year and a half traveling internationally. I had trekked across the northern mountains of Ethiopia, and explored the markets in rural Senegal. I had lived in Cape Town, camped with elephants in Botswana, swam in Victoria Falls, and hiked a section of the AT. I had slept in tents, eaten caterpillars, seen insects the size of my fist, and made more connections and friends than I had at any other time in my life. I learned what was important to me, what kind of person I was and who I wanted to be, and, more importantly, what I wanted out of my life. I didn't envision myself taking a 9-5 office job ever again, but here I was at a crossroads, with the life I wanted on one side and the job I had always dreamed of on the other.
But life isn't so black and white. Sometimes creating opportunities is the humility to accept we don't know what life is going to hand us, and turning down an amazing job offered so readily can be foolish and naïve— I didn't know where this path could take me. I believe opportunities arise for a reason, and a job offer from Under Armour from 5 years ago would have been a dream come true. I felt that now, this job being handed me so readily, was no coincidence. I stopped contemplating my doubts, and started filling out the forms. "I'll take it," I said.
On August 22nd 2013, I made the shift from a duffel toting adventurer to a 'professional' with an office job, trading my cutoffs and surfing shirts to jeans and more office-appropriate tops. The culture change was swift. My days went from traveling, writing, and climbing, to meetings and colleagues and microwaving leftovers in the community kitchen. I re-learned team-oriented phrases like 'team-huddle' and 'morning standup'. The day before I started, I dyed half my hair a bright, vibrant yellow and sea-green. I would be a professional, I would do a great job, but I would be defiant in my transition.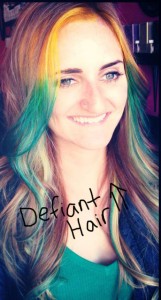 ***
It had been 2 years since I left India and broke up with my long-term boyfriend. It was 2012, and I had continued working as a videographer in DC for another 2 years. It was springtime, and I had begun to feel the familiar pull of discontent, the desire to do more. I had done a lot in that time, I had traveled to Indonesia and Nigeria and Lebanon. I traveled to Ghana and interviewed John Kufuor, the former president. I shot video of mango farms in rural Senegal, and had met people from all over the world and learned about land grabs and GMOs and droughts in Somalia. I had had lovers in almost every city I visited, and many, many more friends. I knew what it was like to cruise around the streets of Beirut at 3 AM. I knew the sound of the waves against the shore in the famous fishing village of Toubab in Dakar, Senegal, and how it felt to drink a beer on the beach in Bali at sunset. I would always recall the stark outline of the machine gun laden guards in Nigeria, stationed in every taxi and outside every building. I loved my job, but my manager with whom had shared my vision and helped me build the video department had retired. I was proud of the work I had done, and what I had learned in that time— but I was ready to take another leap and work on my own projects. I wanted to see if I could make it on my own, to travel indefinitely and do freelance work as I traveled. What I loved most about my job was traveling to developing countries, where I'd spend days out in the field shooting video and meeting locals. It was an entirely different lifestyle and I wanted to completely immerse myself in it, not just spend two weeks at a time in the field and three months back in DC in an office.
I am humble enough to know how privileged I am to have been born in a middle class Western family, with the opportunities to do what I want without social, economic, or cultural restrictions. Looking back on my life when I first graduated college makes me realize even more so how important it is to chase your aspirations, how change is vitally important (no matter how difficult), and how humility can create opportunities. Leaving my long-term boyfriend post-India was the most difficult decision I have ever made in my life. Quitting my job as a videographer was difficult, but easier, knowing how change brings more experiences, and knowledge, and people into my life. So June of 2012, I decided to sell my house, quit my job, and travel the world. I was 27.
***
At Under Armour I began to learn about performance apparel and web e-commerce and other nonsensical-sounding things that ultimately have wonderfully practical applications. I made inspired notes in my moleskin constantly at work, brainstorming blog ideas and projects but, working full time left me very little time to implement them. I embraced the idea that I would learn a lot from this job, and there was purpose to it, and would ultimately take what I had learned on the road at some future point.
4 months passed in a quick blur of long busy days and climbing nights, and my contract was extended indefinitely. Around Christmas, one of the designers left for another job, and my manager offered me a full-time position with health insurance, a bonus, and stock options. The old Dani shivered in excitement, while the new Dani considered her options, the opportunity it provided, and accepted.

***
I've learned a lot over the past 333 days in Baltimore. I've made some amazing friends, and have become part of a fantastic climbing community. My sister got married, and my brother was accepted into the Peace Corps and moved to Georgia, fulfilling one of his dreams. I fell in love for the first time, only to watch it crash and burn months later. Several family members passed on, and several friends were married and started their lives again with a different identity, as a husband or wife. The tides have moved in and out and the sun has risen each day and I've watched it all with the knowledge I can do what I want and will be fulfilled because of this. Life is beautiful and sad and difficult, but if we face it bravely and openly and honestly, we can be and do anything.
On some mornings, the wind will shift as I walk across the street by the water where my office is, and on it I'll smell the spice of a market in Africa, or the smell of the ocean on the Cape of Good Hope. And I'll smile to myself, and my heart will say— soon. I am 29.