Something extraordinary happened on the road a few days ago. Here it is:
Early that morning, I had my panniers packed and downstairs by the sofa in the hostel common room. It had been a wonderful (and warm) two days. After camping the whole first week, I was happy to be around other travelers, and sleep in a bed at night. My tent was great, but the air in Portugal was damp and chilly at night, and I had taken to filling my duffel bag with clothes and sleeping on top of it as an added warmth layer.
The dorm room where I was staying had a little heater that kept the room toasty, and I could hear it throughout the night clicking on and off. There was also a great crowd of people, just the night before, a group of us were playing Uno, drinking cheap red wine, and making dinner together in the common room. Two of the hostel guests were musicians, and guitar music played in the background while everyone chatted and joked. But this morning, it was time to move on— I had a 40-50 mile bike ride ahead.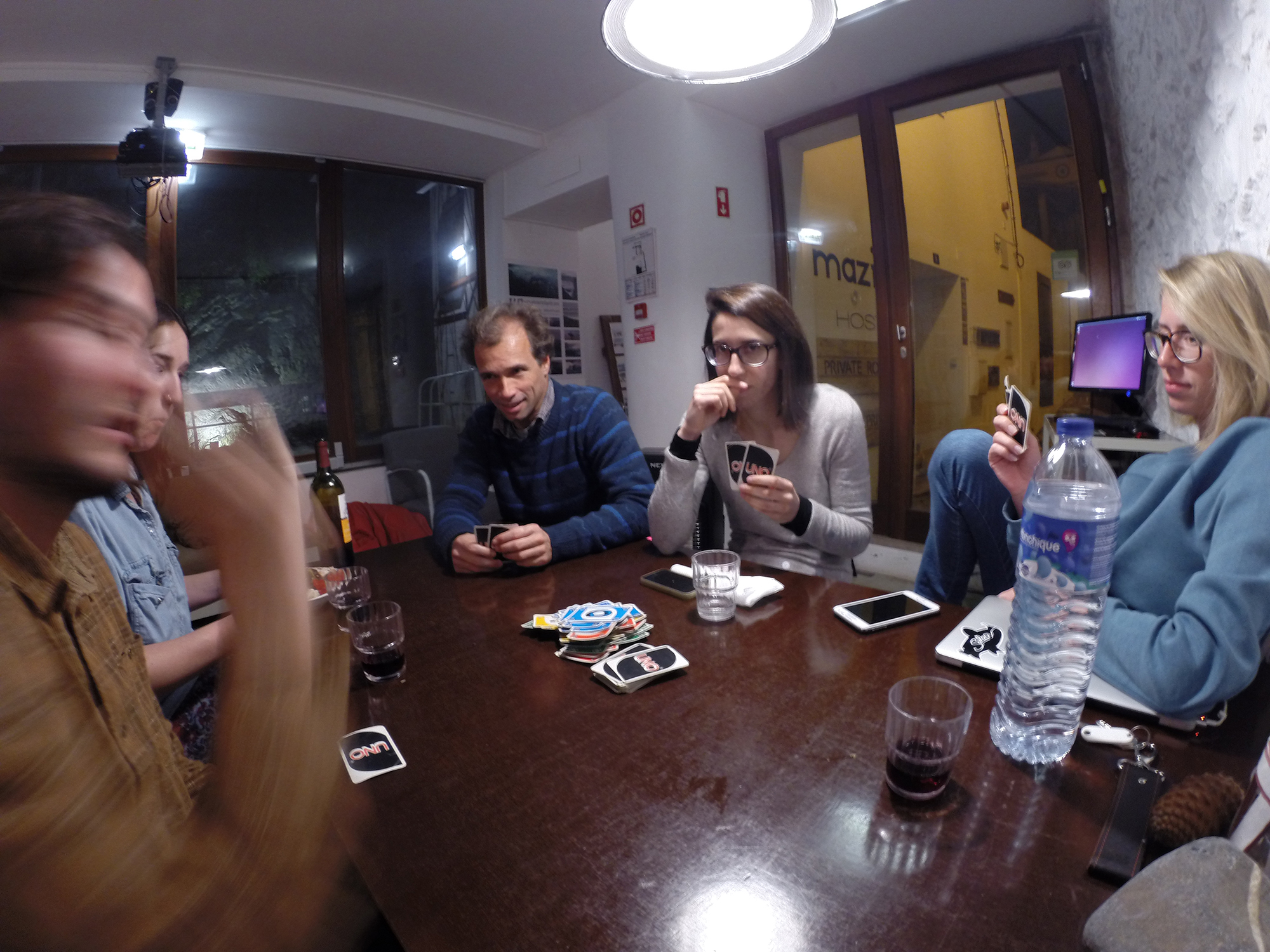 Thankfully, it was beautiful outside— the sun was warm and there was no headwind at all. Aside from slogging uphill for the first 15 miles with 35 pounds of gear on the bike, it was quite pleasant. I stopped frequently for a sip of water or to eat one (or five) of the creepy gummy bears I had bought the day before as bike fuel. They were twice as large as normal gummy bears, their little arms outstretched in some sort of creepy wave, their vacant eyes staring out at the world with what I interpreted as malice, through their little plastic bag.
I was headed to Lagos, then to Albufeira. It was now early afternoon, and the road had narrowed and twisted through a small town. As I rounded a bend, I noticed a line of cars waiting at a sharp turn in the road to Lagos, with another local road heading West. As I came to a stop, I saw there were people standing around at the edge of the road as well. All of a sudden, police on motorcycles with their lights flashing came blazing around the bend, followed by a huge crowd of cyclists, and a caravan of clean, colorful cars on top of which at least 5 bicycles were perched, per car.
It was so unexpected, and just as quickly, it was over. The crowd dispersed and people drifted back towards the town.
"Darnit," I thought to myself, "if I were just a few minutes earlier, I could have been right at the front to see what was going on." I assumed it must be some sort of race, or training, and thought no more of it as the line of cars started to move and I turned in the opposite direction toward Lagos.
After spending most of the morning biking up mountains, I finally came to the highest point, and flew down a twisting, mountain road, watching the sea on the horizon. I was almost to Lagos.
* * *
I practically flew into the city, the sun glinting off my sunglasses, my hair blowing back in the wind. I was feeling successful after making it through the mountain range, and I was HUNGRY. Back home, I generally eat vegetarian. Here, all I could think about every day was cheeseburgers. I didn't even like hamburgers, but on this trip, it was all I wanted. My mind had become a mantra; hamburguesa, hamburguesa con queso, hamburguesa con papas fritas.
As I entered the first roundabout, a halo of light fell to the left, and as if in slow motion, my head slowly turned, and I saw it. Glowing like a beacon of golden light— it was a McDonalds.
Never at home would I consider going to such a place. But now, all I could think of as I continued into town, was a hamburger— specifically, a hamburger from McDonalds. At the next roundabout I made it the full way around and started backtracking.
As I made a right toward the McDonalds, a police officer directing traffic started furiously whistling at an SUV going in the same direction I was. The driver stopped.
"That's odd," I thought to myself, as I continued down the empty street.
Just up ahead was another roundabout with the entrance to the McDonalds. I was almost there when I noticed the crowd of people standing all around the edges of the roadway. As I biked closer, I realized many were holding flags. All of a sudden, I was biking through them, alone, and people started cheering and waving. One couple was furiously fist-pumping, I thought they were going to reach out and shake my hand. A photographer was crouched on the ground, snapping my photo. I quietly rounded the circle and headed into the McDonalds parking lot.
As I dropped my bike onto the grass, overlooking the roadway, all of a sudden the same crowd of cyclists I had seen earlier that day flew around the bend, into the traffic circle, and continued east towards Albufeira, followed by the cavalcade of cars with extra bikes. It was all over within 15 seconds— the cyclists were going so fast. The crowd dispersed, some of them almost sprinting away. One man with a flag ran by, and I called out to him, "What's going on? Is this a race?"
"Yes!" he cried, "It's the Volta to Algarve 2015— the world champion is here! It ends in Albufeira!" And with that, he ran down the street, his flag waving in the breeze.
And that is how I took first place in the Volta to Algarve 2015, McDonalds Roundabout leg. Really— I was there first. And somewhere, in some photographer's camera, there's a photo to prove it.
I sat on that grassy hill, consuming a hamburger, fries, and two apples pies, and congratulated myself on a job well done.